If you are lending in the mortgage industry, you know that managing and processing a high volume of loan documents is a crucial part of your workflow. Quality control of documents are key to a successful loan process, which is why it's important to have a Loan Origination System (LOS) that provides users with Document Operations within its platform.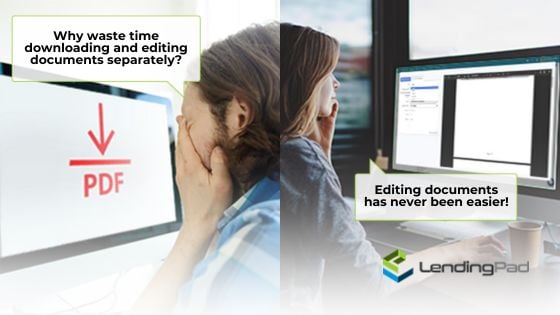 With LendingPad, you can now edit documents directly within the system, which includes copying, moving, deleting, re-ordering, and rotating documents and their individual pages. This helps eliminate duplicates and poorly scanned documents, saving valuable time and avoiding potential compliance issues.
LendingPad offers a seamless user experience by allowing borrowers to upload their documents directly to the platform, removing the need to download documents to your desktop and use third-party software like Adobe to edit them. This results in a more efficient and cost-effective solution, especially for smaller lending companies.
Customization is key, and LendingPad understands that. Users can customize their document buckets to ensure they are built for their company's workflow. With the ability to organize documents in a way that's efficient and clear to your team, communication is enhanced, and the lending process becomes smoother.
Linking documents directly to your conditions tab enables you to communicate with your underwriters, telling them exactly which document/s are associated with a condition, eliminating any confusion or delays in the process.
Having an LOS with Document Operations not only saves time but also ensures that documents are accurate and complete. With LendingPad's advanced document management capabilities, you can easily manage and process all the required documentation, providing a superior customer experience.
In conclusion, having an LOS with Document Operations is essential for lenders, brokers, and credit union businesses. LendingPad understands this need and has built its system with the latest technology to simplify document operations and streamline the lending process. Choose LendingPad, the LOS built by industry experts that understands the importance of these functionalities, and take your lending process to the next level.