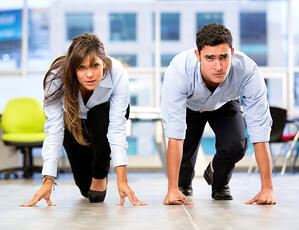 How is your mortgage loan origination system matching up to the process used by your competitors? Mortgage borrowers look for certain features when it comes to the loan application and approval process, and it's vital that your system delivers a positive user experience. In addition, you'll want a mortgage loan software that simplifies and streamlines your internal processes.
The top three features your mortgage loan software should compete on:
An intuitive user interface (UI). Your mortgage loan applicants should find it easy to use the system; every process should be clearly defined, their progress tracked, and the next step laid out as they complete each previous step. On the back end, you'll want solid scalability, processing power, and the ability to seamlessly communicate and collaborate with third parties to verify the information.
High-level security and compliance. Using mortgage loan software means disclosing a lot of personal information, and users should feel that all of the data they input into your application software is secure. Look at cloud security, application security, encryption, and 2 step authentication. Compliance with industry regulations on the back end is also crucial for risk management.
External and internal end-to-end performance. A POS digital platform should be the main form of interaction for borrowers, while the LOS is the supporting back end that connects the POS with the lender and delivers a smooth mortgage loan origination process. Lightning fast performance leads to fewer applications abandoned and a higher successful loan approval rate.
Additional back end processes your mortgage loan software should support
In addition to customer-facing benefits, your mortgage loan software should provide a seamless, easy experience across your entire back end.
System administration should be simple, allowing any moderately skilled IT employee to perform deployments, configurations, and reconfigurations on the fly.
Management reports and form modules should be flexible and expandable, allowing for easy customization and the creation of personalized executive reporting.
Multi-user collaboration should be enabled, allowing real-time data editing and updating without the constant need for a refresh, annoying lag, or constant lock-outs.
A bi-directional API should be an option for institutions, allowing open, real-time data exchange for quicker communication with other systems in the institution's technology stack.
Is your mortgage loan origination software supporting your business goals?
Is your mortgage loan software scalable, cost-effective, and innovative? Each of your future business goals should be supported and you should be able to grow your company within the framework of the system without worrying about overload or runaway costs.
Cloud accessibility means your system is always on, anywhere, and provides your organization with security, scalability, mobility, and enhanced collaboration.
Contracts that include reasonable terms, a lower upfront technology investment, and a variety of pricing models (user-based, success-based and usage-based) deliver flexibility and the opportunity for steady growth.
Innovation at the developer level leads to continuous improvements, like additional features, better mobility, and a more automated process.
By comparing your mortgage loan origination software (LOS) to your competitors, you can learn where you can improve to offer the best possible experience both on the borrower facing side and in the back end.